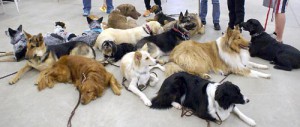 We provide an extensive set of training  activities to help you achieve your goals with your dog(s).  Here are brief descriptions.  Follow the links to get additional information.
You and your dog come to school one period each week for group instruction. In each class, you will learn new material and review and practice the lessons from previous classes. The class sessions are in eight week units.
When the registration is closed for a current 8-week training session, we invite you to register for our 'Jumpstart' session.  In a private or small group meeting, we will give you instructions on how to begin training activities with your dog — how to get and keep the dog's attention, help the dog do as you say when you say it, stay on task and have fun in the process — for both of you.  We will also discuss what to do with specific issues you are having with your dog.
You and your dog may meet with Ann Gafke for one-on-one private lessons or problem-solving consultation.
These sessions can substitute for or supplement your participation in other schooling or activities at our training center. The fee for private lessons & consultation is $70 per hour.
While you are attending in any of our classes have no-cost telephone or e-mail consultation during your enrollment and for three months following completion of any Boarding School session.
You dog stays with us for an concentrated, focused one-month (or sometimes, somewhat longer) dog training course in introductory obedience and to work on other skills that you identify. We follow-up with private and group lessons to help you take over.
We can provide a place for your dog to stay while you travel. And, at your request provide additional training while the dog is with us. Our boarding services are open to dogs of families who currently are or have been enrolled in one or more of our training classes or who are building members.
We welcome individuals to take annual personal, family memberships in our training school – similar to membership in a gym or golf club. Members may participate in any of the classes and member-only events and activities and may use the facilities and equipment at the training center for their individual practice.
Building members may join the school's drill team. Team members create dance routines with their dogs in the tradition of free-style obedience, develop tricks and unusual moves choreographed to music.  Team members performance frequently throughout central Missouri at fairs and festivals and for school children and senior citizen venues.
Some 50 families among our Building Members have achieved therapy dog certification for one or more of their dogs.  The members make scores of visits to hospitals, libraries, nursing homes, schools and the like annually.