Register any time for these:
Registration for early summer 2019 classes is open now. We expect to begin the session the week of May 19, 2019. 
Use the 'Contact Us' page if you have questions or need other information.
---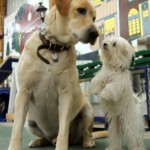 What classes cost
The per-class fee for the basic courses is $210 except those who enroll in Level 1 or Puppy Kindergarten may continue in Level 1+ for no additional fee.
The per-class fee for the advanced and specialty classes is $230 per eight-week session except Building Members may take any classes for no additional fee beyond their membership.
When are classes offered
We offer classes nearly year-round in eight-week sessions primarily on weekday evenings and Saturdays.  Some of the specialty classes are offered on an as-needed or as-requested basis.    See the school schedule for the regularly offered classes. If you do not find the class you want on the schedule ask about the possibility of our offering it to you.
How to enroll
Open the "Contact Us" tab and send us a note or to call to ask about classes for activities. Use the links on this page to register for specific classes.  You and your dog(s) may begin  at any time that fits you schedule. It is not necessary to wait for the start of a new eight-week session.