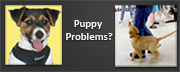 What it teaches, What it costs, When it's offered, How to enroll. Register online.
This  class is for dogs under six months of age. It provides the introduction to school and learning. Puppies can begin puppy training as soon as your veterinarian says it is okay for the puppy to be in public, usually at about 7-9 weeks.
Building a positive attitude and work habits
Teaching basic manners
Socializing with other dogs and people
Guided walking on a leash
Sitting, Lying down, Standing, and staying in those positions
Coming when called (a life-saving trait)
Tips on common puppy behavior
Housebreaking (Digging, Chewing, Barking, Jumping up on people)
How to travel with your dog
Grooming (Nail trimming, Dental care, Ear cleaning, Giving meds)
Develop good manners for visits to the vet.
This puppy training class prepares your puppy for the first certificate exam in our school. It also qualifies your puppy to earn the American Kennel Club's Star Puppy Recognition and to begin work on the AKC Canine Good Citizenship Certification (CGC).
The fee is $190. The fee covers the dog's participation in the eight-week course, class handouts and other materials, no-cost telephone and e-mail consultation on handling and training problems during the enrollment. The fee also covers enrollment in the Level 1+ class following successful completion of puppy kindergarten. Payment is by check or cash.
We offer puppy kindergarten nearly year-round in eight-week sessions.  We offer three sections of Puppy Kindergarten during a week – Monday at 6 pm, Thursday at 7 pm and Saturday at 9 am. We begin the lesson on Mondays and repeat it on the other days. One should attend at least one session during a week. You may attend more often at no additional cost. See the school schedule.
Open the "Contact Us" tab and send us a note or to call to ask about classes.  You and your dog(s) may begin  at any time that fits you schedule. It is not necessary to wait for the start of a new eight-week session. Use this online registration form.
If you are starting after the first week of a session, the first time you attend, we will give you the "getting started" instructions and you can join the class after that.  You should plan to continue your attendance in the class in the subsequent session to pick up the lessons you may have missed if you began after the first week of a session.